BIO, ACHIEVEMENTS & EXHIBITIONS
Shakine was born in Tel Aviv to Shimon (writer) and Esther (designer), holocaust survivors who immigrated to Israel after World War II. In 1980, he graduated from WIZO-France High School of Arts, in Tel Aviv.
On his recruitment to the IDF in 1980, he joined the Nahal Command and served as a graphic designer. In 1983 he studied Art History at Tel Aviv University and in 1984 began his studies at the art school École des Beaux-Arts in Paris.
Between the years 1986–1993, Shakine lived in New York, where he was granted fellowship of "Art Matters" and was the assistant to CoBrA avant-garde movement artist, Karl Appel. From 1997 to 2001, Shakine lived in London.
A Muslim a Christian and a Jew"-Live graffiti performance City hall Amsterdam 

2019

Escape, Volta6 Art Fair Basel

2019

"You & Me" A Billboard project for Lenbachplatz, München, Germany

2018

2017

"A Muslim A Christian and a Jew" & "Three Painters, A Rock Star, A Young Girl and a Psychoanalyst in One Room"

2016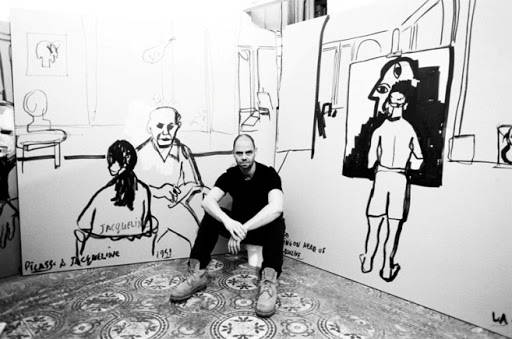 In 2014, Shakine presented, for the first time at the Haifa Museum, his solo exhibition "Culture Hero" through which he tried to figure out how culture heroes are created. The exhibition: Three Painters, a rock star, a young girl and a psychoanalyst in one room, was presented in early 2016 at MANA Center for Contemporary Art in New Jersey and at Haifa Museum of Art. In 2017, Shakine exhibited a large solo exhibition at the Jewish Museum in Berlin. Shakine's art always engages in the same subject, even though his artworks look different from one another.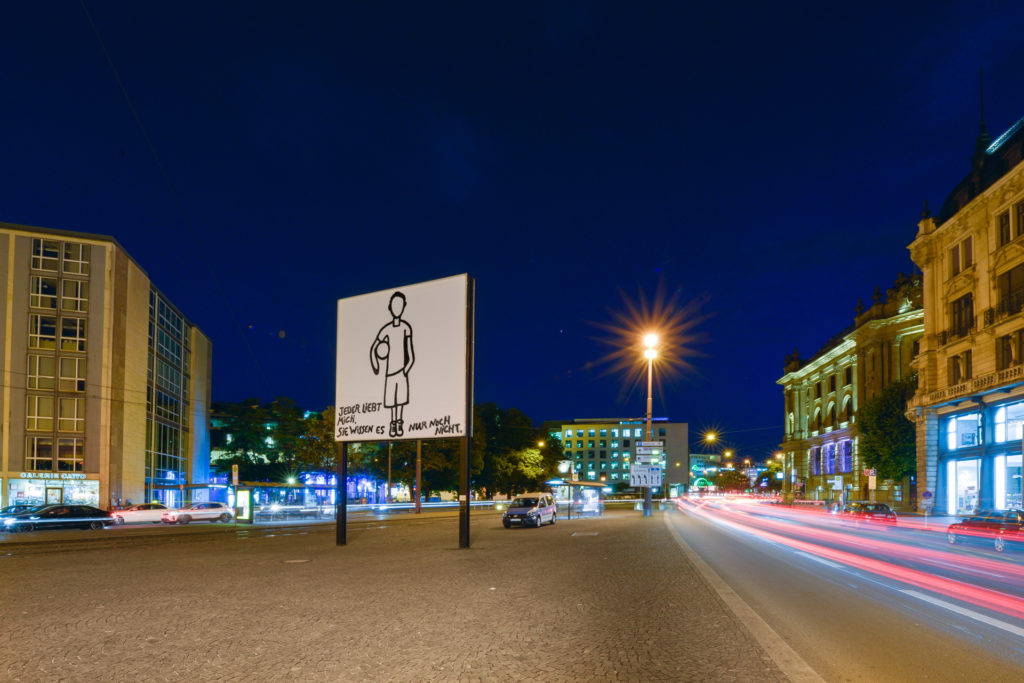 "These two figures, a boy and a girl, are like screens onto which we can project every boy and every girl, as well as the boy and girl within us, or the boy and girl we were. The appearance of the two figures in public space in the form of a billboard, has a universal aspect to it, which invites us to think about the human condition beyond given differences, but at the same time, each figure is like a specific social code." - Eran Shakine
"I don't laugh about religion. I laugh about human behavior."
Shakine creates bold portraits which present prominent culture figures in unusual situations and contexts, among them: Freud dozing in his famous armchair, Picasso frying an egg; Pete Mondrian crossing the ocean in dog paddle swimming style. Shakine's Solo exhibitions were presented in New York, London, Paris, Toronto, the Israel Museum in Jerusalem, Tel Aviv Museum of Art, Museum of Israeli Art in Ramat Gan, Herzliya Museum, the Gallery of New York University, Newton Center in Boston, Corcoran art museum in Washington, D.C., Forum Museum in St. Louis, the Jewish Museum in Berlin, the Jewish Museums in Munich and in Brussels. His works are displayed in the permanent collection of the "British Museum" in London, the Ludwig Museum in Germany, Tel Aviv Museum of Art, Israel Museum, Tefen Open Museum, Herzliya Museum and Ein Harod Museum.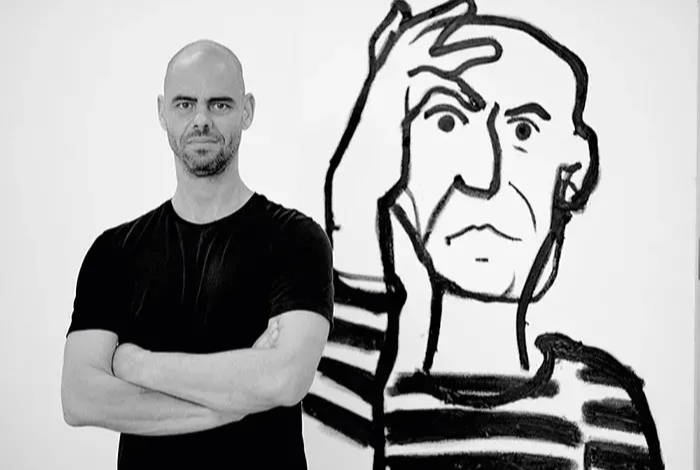 SUBSCRIBE TO OUR NEWSLETTER
If you want to find out more about Eran and other artists, make sure you subscribe